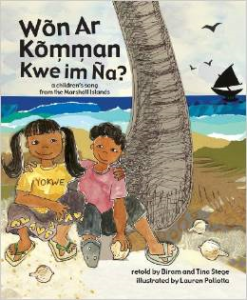 Thanks to a generous grant from the Atlantic District Lutheran Women's Missionary League, and in cooperation with artist Lauren Pallotta and authors Biram and Tina Stege, Our Saviour has developed an Arch-Books style children's book in the Marshallese Language.
Copies have been distributed free of charge to all kindergarteners and first graders in the Marshall Islands, and additional copies have been distributed among Marshallese communities in Oregon, Hawaii, and Arkansas.
Individual copies are for sale for $20 plus shipping via Amazon.com or via e-mail at paul.sauer@oursaviourbronx.org. All proceeds go to support the publication of future books.
Tax deductible donations in support of the publication of and distribution of future books may be made payable to:
Our Saviour Lutheran
Marshall Islands Children's Book Project
1734 Williamsbridge Rd.
Bronx, NY 10461
Or via paypal: